H3000-D/SX Ultra Harmonizer®
(discontinued product, upgrades remain available)
If you already own an H3000 Ultra Harmonizer, you can add the features of the H3000-D/SX by istalling an upgrade kit or ROM. See our upgrades page for more details.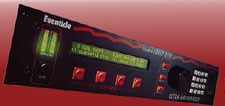 The Working Musician's Not-So-Secret Weapon.
When Eventide introduced the H3000 Ultra-Harmonizer brand effects processor, we called it a "secret weapon" to unlock musical creativity. People who make, record and perform music have agreed by the thousands - the H3000 is the best selling effects processor in Eventide's 20+ year history. So it's hardly a secret anymore. For the serious player, it's a necessity.

Fortunately, the new H3000-D/SX is an affordable necessity. This amazing unit brings all the H3000 magic to a new lower price level. Yet there are no compromises; the H3000-D/SX Studio Dynamic Ultra-Harmonizer processor gives you exactly the same no-compromise design and effects quality that has shaped the sound of so many hit makers and professional recording studios. The H3000-D/SX starts with the programs and presets from the "musician's standard" H3000-S, including the legendary Steve Vai presets. And then it goes further, with a selection of terrific new features. It all adds up to one incredible value.
WHAT'S NEW IN THE H3000-D/SX?
| | |
| --- | --- |
| | Mod Factory dynamic algorithms |
| | 19 waveform LFO function generator |
| | Six-octave Multi-Shift algorithm |
| | 100 guitar presets from top names |
Mod Factory is the unique modular "algorithm construction kit" which was developed for our top-of-the-line H3500 Ultra-Harmonizer effects processor. It's now available in the H3000-D/SX for thousands less. The two Mod Factory algorithms create an almost infinite variety of dynamic effects. Each algorithm includes a full set of independent processing modules, from delays and filters or pitch shifters to envelopes, modulators and mixers. The user can skillfully patch these modules together in any combination.

Factory presets based on Mod Factory include "ducked" delays (echoes that only appear between vocal or instrumental phrases), BPM delays and sweeps, compression, manual flanging, reverbs that respond instantly to audio input level and more. Unlike ordinary static effects devices, these dynamic effects add a new intensity to your music.

The built-in waveform function generator operates like a synthesizer's LFO (Low Frequency Oscillator). With 19 periodic or triggered waveforms which are assignable to virtually any parameter of any program, plus pink and white noise generators, this function generator is another way the H3000-D/SX adds new like to your sound. Sound effects that can be triggered via MIDI, autopans, tremolos, and unique chorus modulations can add breath or breathe fire into your performances.

Wider range and cleaner sound. That's the story in a nutshell about the newly developed six-octave Multi-Shift algorithm. What else would you expect from Eventide, the company that created digital pitch shifting and invented the Harmonizer brand processor in the first place?

We've rounded out the package with almost 100 new guitar presets from top industry names such as Joe Satriani, Vernon Reid, Bob Bradshaw, Matt Henderson, Henry Kaiser, Andrew Schlesinger, Mesa Boogie, Steve Vai and more. Count on these presets to give your performances star quality.
FEATURES THAT MADE H3000 FAMOUS
| | |
| --- | --- |
| | Advanced true stereo pitch shift |
| | Diatonic pitch shifting |
| | Wide variety of exceptional reverse and effects |
| | Original Steve Vai guitar preset |
| | Versatile MIDI implementation |
If the new D/SX features are the icing on the cake, all the original, quintessential H3000 features are the cake itself. Unlike effects boxes which may do just one or two things well, the H3000-D/SX is exceptionally well balanced. It's an outstanding stereo pitch shifter, a world-class reverb, a treasure trove of effects. In all there are almost 300 presets and every one is truly usable.

The pitch shift algorithms include true stereo, full bandwidth pitch shifting, reverse shift, layered shift, plus Eventide's unique Diatonic Pitch shift programs. Specify a key signature, scale or mode and Diatonic Pitch Shift automatically turns any note into a diatonically correct triad.

The many included reverb programs offer the kind of quality for which studios used to have to pay four times the price of the H3000-D/SX. They're lush, dense, and come with a wide variety of user-adjustable parameters to give you all the control you need.

The D/SX gives you both variety and quality in effects, including comb filters, multi-tap delay lines, phaser, flanger and other effects that react dynamically to the level of the input signal. We've even included a dozen or so effects presets from our H3000-D/SE Studio Enhanced Ultra-Harmonizer effects processor, including some terrific swept reverbs, spinning, swirling delays, and a 3D Ultra-Tap preset that will give your ears a major twisting.

One of the most popular features of the original H3000-S is the collection of 48 custom-designed presets from famed guitarist Steve Vai. Eventide knows when not to tamper with a good thing, so we've included the entire collection in the H3000- D/SX. It's sure to give you new musical directions to explore.

The versatile MIDI implementation allows remote operation with any MIDI controller, automation from a sequencer and full, clickless control over virtually every parameter in real time. System Exclusive data transfer capabilities are also supported. For added convenience, Soft Functions allow users to group parameters together and control them all at once from the front panel.
PROFESSIONAL HARDWARE FOR PROFESSIONAL QUALITY
| | |
| --- | --- |
| | Full 5 Hz-20kHz bandwidth |
| | 44.1 kHz sample rate |
| | Superb audio specifications |
| | Balanced inputs & outputs |
| | 80 character LCD display |
| | Four ways to enter data |
| | Optional sampler cards |
Like all Eventide Ultra-Harmonizer effects processors, the H3000-D/SX is a rugged, professional quality product, made in the USA. No shortcuts are taken in design or manufacture. The unit is full stereo in and out, has differential balanced +18dBm inputs and outputs with XLR-type connectors, and a multi-voltage power supply. The audio specs are superb. If you're accustomed to working with a typical limited-bandwidth multi-effects box, your ears are in for a real treat when you turn on an Eventide Ultra-Harmonizer effects processor for the first time.

The H3000-D/SX front panel has the features professionals demand for easy setup and operation in the studio or on the road. A large, bright LCD readout with two lines of forty characters each. Large softkeys are dynamically labeled on the display for easy selection and setting of parameters. The user interface of the H3000-D/SX has been widely praised for its convenience and comprehensive control.

There are four ways to enter data: A full-size keypad, up/down buttons, the famous Eventide "knob," and MIDI control. Dual 10-segment LED bar graphs aid in level setting.

A versatile plug-in sampler card is optionally available for the H3000-D/SX. This sampler, available in short (23.7 seconds mono/11.35 seconds stereo) and long (95 seconds mono/47.5 seconds stereo) sample time versions further extends the versatility of the unit.
SERIOUS PERFORMERS NEED SERIOUS EFFECTS TOOLS
Are you ready for the Eventide H3000-D/SX? If you're looking for an effects processor with standout audio quality that never has to be buried in the mix, and effects processor that adds to your creativity rather than limits it, the answer is yes. With true Eventide Ultra-Harmonizer brand quality now available at a lower price than ever before, the H3000-D/SX is the affordable machine that can propel your creativity to the next level.

Return to Harmonizer Page