Winter NAMM 2006, Hall A #6729 FOR IMMEDIATE RELEASE
EVENTIDE UNLEASHES ITS MOST POWERFUL STEREO RACK UNIT EVER: THE H7600 ULTRA-HARMONIZER EFFECTS PROCESSOR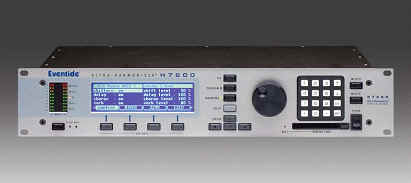 The H7600 provides nearly 1000 preset-algorithms, 174-second sampler, and sorting capabilities for unprecedented stereo effects processing prowess.
ANAHEIM, CALIFORNIA, January 19, 2006 - Eventide today introduced the H7600 Ultra-Harmonizer to audio professionals at Winter NAMM, providing the industry its most powerful stereo effects processor yet. The H7600 delivers an unprecedented number of preset algorithms and processing power offering musicians, producers, and post-production professionals the ultimate Eventide stereo effects processor.
"For over three decades Eventide has been amassing a diverse palette of effects and the H7600 represents the culmination of these groundbreaking efforts," said Ray Maxwell, Eventide vice president of sales and marketing. "The H7600 provides more power than its predecessor, the DSP7000 series, a new operating system and new search functionality providing instant access to Eventide's renowned catalog of effects. The H7600 provides audio professionals a stereo effects processor capable of easily addressing any application."
The H7600 features AES/EBU, S/PDIF, and word clock digital I/O, two channels of analog I/O via XLR and, alternatively, two channels of hi impedance ╝" inputs are included for instrument connection.
Every preset is its own unique algorithm; a combination of effects chosen from Eventide's rich library of over 230 stereo effects modules and is delicately crafted for a precise function or effect. With Eventide's exclusive Building Block Architecture, users can create their own unique preset-algorithms. The H7600 also includes the PC and OS X graphic preset development tools.
About Eventide
Founded in 1971 in New York City, Eventide is a leading developer and manufacturer of digital audio processing products for recording, broadcast, and live performance. Headquartered in Little Ferry, NJ, Eventide invented the H910, the first Harmonizer« effects processor in 1975, and introduced the H3000 Ultra-Harmonizer effects processor in 1988. Visit Eventide on the Web at www.eventide.com.
Eventide and Harmonizer are registered trademarks, and Monolithic Tandem is a trademark of Eventide Inc.