FOR IMMEDIATE RELEASE
EVENTIDE OPTIMIZES ANTHOLOGY II FOR NEW 'MACTEL' PLATFORM
Eventide's new plug-in bundle now available in Universal Binary
LITTLE FERRY, NJ, 03 November, 2006 - Eventide today announced that its popular Anthology II plug-in bundle is now available as a Universal Binary and is optimized for the new Intel powered Mac computers. This new Mactel upgrade will allow users to take full advantage of Apple's newest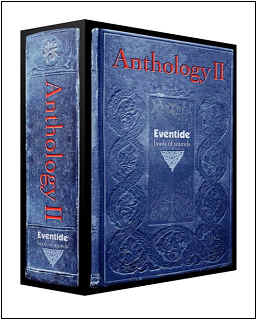 computers, including the Mac Pro with quad-core architecture, for faster processing speeds when operating Eventide's powerful and comprehensive set of digital plug-ins.
"Our first priority is to our customers and making sure that our products meet their current and future needs," said Ray Maxwell, Eventide vice president of sales and marketing. "As the tools that enable our industry to create and produce continue to improve, Eventide will continue to innovate to ensure that its customers have the ability to work with the best technology available. We are very excited to see what our customers can accomplish with the power of the new Mactel computers and the functionality of the Anthology II plug-ins."
Now available, the Universal Binary upgrade is free to current Anthology II customers. Anthology II features 15 plug-ins and gives artists and engineers as diverse as Herbie Hancock, Paul Simon, Sebastian Arocha Morton, Scott Gershin, Scott Humphrey, and Andrew Phillpott powerful solutions for all their production needs. Anthology II adds six new plug-ins to the Anthology bundle: two 48-bit double precision vintage equalizers; EQ65 Filter Set and EQ45 Parametric Equalizer, both 48-bit double precision; two new configurable channel strips, Ultra-Channel™, featuring Eventide's signature micropitch shifting effect for thickening, and E-Channel™, optimized for maximum instances; Precision Time Align™, provides the ability to bring individual tracks into phase; and Quadravox™, a four-voice diatonic pitch shifter with delays. Anthology II also includes the latest versions of the nine plug-ins that comprised the original best-selling Anthology bundle: H910, H949, Instant Phaser™, Instant Flanger™, Omnipressor®, Eventide Reverb, Octavox™, H3000 Band Delays™, and H3000 Factory™. Like Anthology, Anthology II is fully compliant with ICON, D-Control, D-Command, Venue, Pro Tools 7.2, and is Mac and PC compatible.
For more information on all of Eventide's products, visit www.eventide.com online.
ABOUT EVENTIDE
Founded in 1971 in New York City, Eventide is a leading developer and manufacturer of digital audio processing products for recording, broadcast, and live performance. Headquartered in Little Ferry, NJ, Eventide developed the H910, the first Harmonizer® effects processor in 1975, and introduced the H3000 Ultra-Harmonizer effects processor in 1988. Visit Eventide on the Web at www.eventide.com.
Eventide, Omnipressor, and Harmonizer are registered trademarks; E-Channel, Ultra-Channel, Precision Time Align, Quadravox, H3000 Factory, H3000 Band Delays, Instant Phaser, Instant Flanger, and Octavox are trademarks of Eventide Inc.
Digidesign and Pro Tools are trademarks of Digidesign, a division of Avid Technology, names and logos are used with permission.