TONE MERCHANTS AMP UP WITH EVENTIDE
ANAHEIM, CALIFORNIA, January 15, 2004 - Demonstrating its commitment to combining the most powerful and flexible effects available with the most knowledgeable retail partners, Eventide today announced the appointment of Tone Merchants as a full-line Eventide hardware dealer. Opened in September 2002, Tone Merchants is a high-end retailer, based in Orange, California, offering professionals and enthusiasts the best-of-breed audio products, including custom guitars, amps, and effects processors.
"The Orville has more horsepower than any other product of its kind," said Ed Yoon, owner of Tone Merchants. "Today, the best guitar players use Eventide and in order to make my store complete, I wanted to include this product." Yoon has an Orville™ in his demo room, allowing the guitarist and potential customers to experience the pure sound of the Orville firsthand.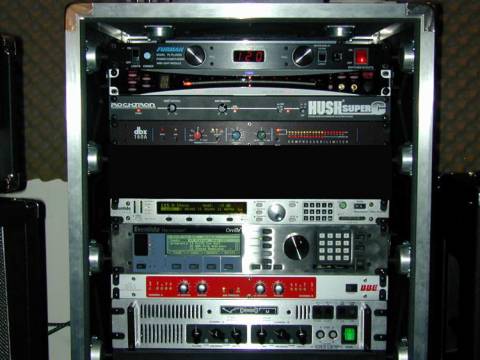 Eventide Orville and Eclipse in Tone Merchants Demo Rack
Shipping with over 1,000 preset algorithms, Orville's audio performance is exceptional, with 24-bit digital-to-analog conversion, 96kHz sampling, and signal to noise better than 110dB. Orville features numerous types of pitch shifting technologies, including up to sixteen voices of diatonic, time-based pitch shifting, as well as pitch correction and resynthesis. Orville also features Eventide's award-winning reverbs, lush choruses, FM panners, sample and hold filters, vibratos, a broad range of modulating delays, stereo multiband compression, noise gating, micro pitch shifting, 174 seconds of sampling, looping, and much more.
"Professional and experienced guitar players explore all sonic possibilities and are blown away by the sound quality of the Orville, and I look forward to offering the H8000 and seeing what these seasoned players think," Yoon said. "Guitarists have a discriminating ear and when they hear the Orville, they are unable to say anything bad because it is a digital effects processor that sounds musical."
According to Ray Maxwell, Eventide vice president of sales & marketing, Tone Merchants is as an excellent avenue to reach professional guitar players. "More and more guitar players are looking for a one box solution instead of complicated stomp box setups," Maxwell said. "We are excited to be partnering with Tone Merchants, whose specialty is the integration of high-end guitar rigs. Eventide has long been the best kept secret of top guitar players dating back to Frank Zappa and Jimmy Page who were early adopters of the H949, in the seventies. Ed puts together impeccable guitar rigs that require the very best analog signal quality because the gain structure magnifies any shortcomings in your analog design. Combining pristine analog with the extraordinary catalog of effects in the Orville and the result is a guitar set-up that is truly free of compromise."
About Eventide: Founded in 1971, Eventide is a premier manufacturer of digital audio processing products for recording, broadcast, and live performance. Headquartered in Little Ferry, NJ, Eventide created the very first Harmonizer® brand effects processor in 1975, and the first multi-effects processor, the SP2016, in 1980.
Eventide and Harmonizer are registered trademarks; Orville is a trademark of Eventide Inc.