Eventide Ships the H3000 Band DelaysTM TDM Plug-In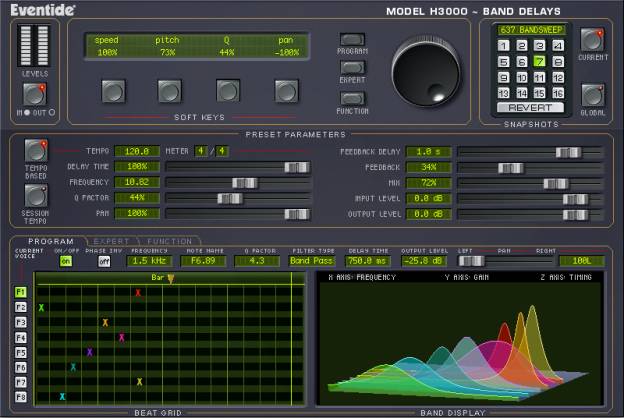 LITTLE FERRY, NEW JERSEY August 24, 2004 - Demonstrating its commitment to develop unparalleled plug-ins for Digidesign's Pro Tools TDM platform, Eventide today announced the shipment of the H3000 Band Delays™ plug-in. Derived from the industry-standard, best-selling, Eventide H3000 Ultra-Harmonizer® effects processor, the new plug-in will provide Pro Tools users with unique sound of the Band Delays algorithm from the H3000 in a plug-in form for Mix, HD, and Accel users. "Many users over the years have requested H3000 effects in plug-in form. It was truly a labor of love to bring back this Eventide H3000 classic effect for the users of Pro Tools," noted Ray Maxwell, Eventide vice president of sales and marketing.
The H3000 Band Delays plug-in features eight voices of tempo-based delays. Each voice has up to 1.2 seconds of delay, and either band pass, notch, high pass, or low pass resonant filters, independent level, phase, and pan controls, all of which are fully automatable. The function generator offers nineteen modulation sources including ramp, sine, triangle, peak, square, S&H, random, and MIDI, to name a few. The Beat Grid makes it simple to lock each voice in time with the session tempo. Each voice can be placed on the grid and quantized to 1/16th, 1/8th, 1/4th, half or whole note, relative to the master tempo and meter selected. Eventide's Snapshot feature allows the user save and recall the plug-in settings with one mouse click. Snapshots can be automated with MIDI program change for preset automation. Emerging from the legendary H3000's dynamic parameter modulation, this plug-in is capable of a wide range of textured and complex delay based effects.
"We set out to develop a plug-in that offers the incomparable vibe of the Band Delays algorithm from the H3000," said Jason Beck, Eventide general manager of the Audio Software Group. "Many users of the H3000 will remember such remarkable presets as #638 Band Sweep, #635 Band Pan, and #658 S/H Pan-a-Delay, to name a few. These and all others are included in the Band Delays plug-in, along with many new presets. New users will be amazed at the musicality of these of these unique, tempo-based filtered delay effects, and will be pleased at the extremes to which sounds can now be manipulated. There are numerous delay plug-ins out there, but only one Eventide H3000 Band Delays."
About Eventide
Founded in 1971, Eventide is a leading developer and manufacturer of digital audio processing products for recording, broadcast and live performance, as well as avionics instrumentation, and digital communication products for public safety. Headquartered in Little Ferry, NJ, Eventide introduced the H3000 Ultra-Harmonizer brand effects processors in 1989. Visit Eventide on the Web at www.eventide.com.
Eventide, Harmonizer and Omnipressor are registered trademarks; Clockworks Legacy, Instant Phaser, Instant Flanger, Orville, Notation Grid and H3000 Band Delays are trademarks of Eventide Inc.
Digidesign and Pro Tools are registered trademarks of Avid Technologies.