EVENTIDE LAUNCHES NEW H3000 BAND DELAYS™ PLUG-IN AT 2004 WINTER NAMM
ANAHEIM, CALIFORNIA, January 15, 2004 - Demonstrating its ability to develop unparalleled plug-ins for Digidesign's Pro Tools TDM platform, Eventide today unveiled its H3000 Band Delays™ plug-in. Derived from the industry-standard, best-selling Eventide H3000 Ultra-Harmonizer® effects processor, the new plug-in will provide Pro Tools users with the feature set and functionality of the Band Delays algorithm from the H3000 in a plug-in format.
The familiar, yet unique interface of the H3000 is faithfully reborn with the new Band Delays plug-in, featuring the essential Hot Keys, which provides four top-level editing controls, providing quick access to scalable multiple parameter manipulation of the four most important adjustments to the effect. The Band Delays plug-in features eight tempo-based delays each with programmable resonant filters and independent panning controls. Emerging from the legendary H3000's dynamic parameter modulation, the plug-in is capable of a wide range of exotic delay based effects.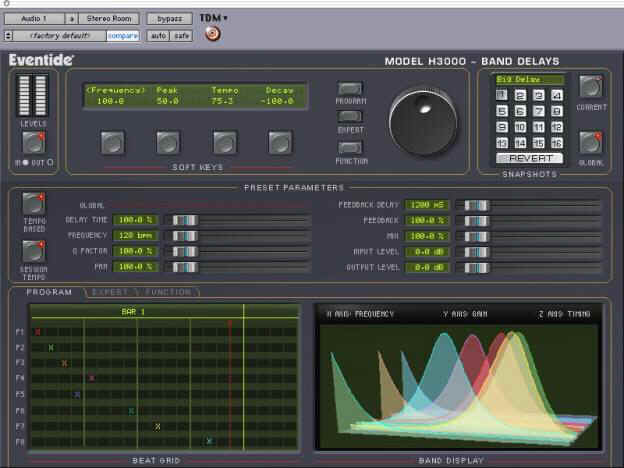 Band Delay Plug-In Main User Interface
"We set out to develop a plug-in that offers the incomparable vibe of the Band Delays algorithm from the H3000," said Ray Maxwell, vice president of sales and marketing, Eventide. "Many users of the H3000 will remember such amazing presets as #638 Band Sweep, #635 Band Pan and #658 S/H Pan-a-Delay to name a few. These and others will be faithfully recreated in Band Delays. New users will, be amazed at the musicality of these of these cool tempo-based filter delay effects. Based on other requests, providing this essential component of the H3000 in plug-in form promises to be a popular creative tool for the ever growing Pro Tools user community. There are many delay plug-ins out there, but only one that comes from the Eventide H3000."
About Eventide: Founded in 1971, Eventide is a leading developer and manufacturer of digital audio processing products for recording, broadcast and live performance, as well as avionics instrumentation, and digital communication products for public safety institutions. Headquartered in Little Ferry, NJ, Eventide created the very first Harmonizer® brand effects processors in 1975.
Eventide and Harmonizer are registered trademarks, and Band Delay is a trademark of Eventide Inc.
Digidesign and Pro Tools are registered trademarks of Avid Technologies.