EVENTIDE LOGGER STANDS UP TO ANTARCTICA'S HARSHEST ELEMENTS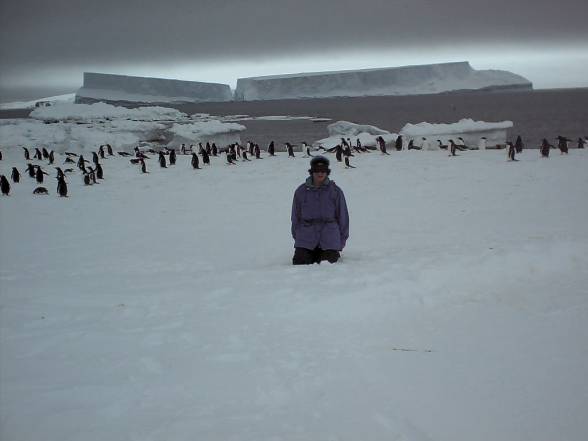 LITTLE FERRY, NEW JERSEY, July 28, 2004 - Demonstrating the rock-solid reliability of its family of digital voice logging and archiving systems, Eventide today announced the successful deployment of its VR320 to the Airfield Lieutenant Marsh branch of Civil Aviation Authority of Chile (D.G.A.C.) at the South Pole. According to Ing. Gloria Vera Leiva, Electrical Engineer, D.G.A.C., (pictured above) the unyielding performance of the 16-channel Eventide VR320 has successfully withstood the harsh elements associated with a demanding environment like Antarctica.
"The VR320 has a great storage capacity, low levels of maintenance and versatile digital recording capabilities, as well as high-quality reproduction and user-friendly programming," Levia said. "Despite the harsh environmental conditions in Antarctica, the Eventide VR320 has proven itself to be a highly dependable logging and archiving system."
The D.G.A.C. is an institution of the state responsible for security standards to all airports along its national territory. It maintains implemented recording systems in each airfield and airport throughout the country to monitor, record, and archive all air communications. The Airfield Lieutenant Marsh, located on King Jorge's Island, has implemented the Eventide VR320, being utilized at 70 percent of its capacity, to record and archive the air operations carried out in the specific zone.
According to Gordon Moore, General Manager, Eventide Communications Division, the proven success of the VR320 underscores Eventide's commitment to fail-proof digital logging and archiving technology. "We are excited that the VR320 has been a proven success at D.G.A.C.," Moore said. "In an application that requires the logging and archiving of all air traffic in a specific territory, stability and dependability are paramount regardless of the environmental conditions."
Eventide has recently introduced its fourth-generation digital loggers, the VR615 and VR778. The new digital logging and archiving systems are the world's-first to operate on the Linux platform. The VR615 and VR778 can operate as a stand-alone unit or function as a network server. Storage capabilities include a standard mirrored RAID-1 array with dual 120GB hard disks, which can record 19,800 channel hours at 13.3 kb/s. Also standard is a DVD-RAM offering 1,540 of channel hours of storage per DVD. The front panel features include an easy-to-read, color TFT LCD screen, soft and hard keys, the easy-to-scroll Eventide navigation wheel, keypad, play-back speaker, volume control, LED indicators, and line-out and headphone jacks. Eventide's Call Record Browser software supports live monitoring or play back with talking/time/date of up to eight simultaneous channels. In addition, calls can be stored as .wav files.
About Eventide
Founded in 1971 and headquartered in Little Ferry, NJ, Eventide invented the digital voice logger in 1989. Eventide has recently introduced the world's first Linux-based logger, the VR778, its fourth-generation digital voice logger, featuring expanded connectivity, accessibility and density. The VR778 is fully usable as a stand-alone logger from the front panel, and functions as a network server for Windows 2000, NT or XP workstations. The VR778 will continue to operate even when your network doesn't. Visit Eventide on the Web at www.eventide.com.
Eventide is a registered trademark of Eventide Inc.